ROSEHIP EXTRACT
General Description
Rosehip fruits can be considered as a real storehouse of vitamins and other essential substances that are vital to our health. However, strangely enough but it is a lemon that is well known to public as one of the most popular sources of vitamin C, and not rosehip. It is really strange because lemon cannot even closely be compared with the rosehip on vitamin C content. Lemons contain fifty times less of this vitamin than rose do. Just imagine how underestimated the rosehip is!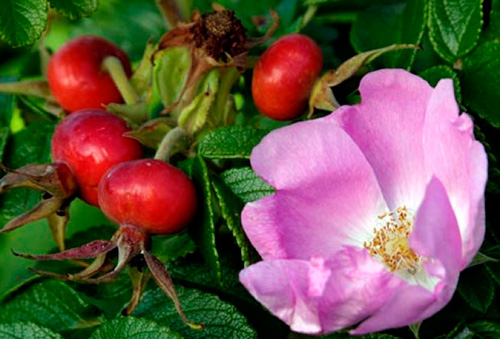 People are simply not being informed about rosehip as often as they certainly should. So perhaps it is time to get educated on this absolutely unique gift of nature that should not be ignored.
Although rosehip is a champion in containing incredilbly high amount of vitamin C it also includes biological composition of vitamins A, K, P, E, and B. Not less diverse is the complex of trace elements found in the rose hips: potassium, calcium, iron and magnesium, manganese, sodium, phosphorus, chromium, copper, cobalt, molybdenum and manganese. But this is not all! The wild rose has sugars, pectin, tannins, organic acids, essential oils, and many other substances necessary for normal functioning of human body.
Rich with biological compositions rosehip extract defines its broad scope of application for providing various health benefits.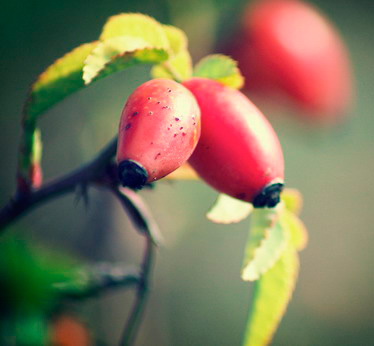 Why it is better to drink rosehip extract rather than rosehip tea?

Rosehip extract is definitely much more potent than just raw rosehip berry tea or decoction. Water-extracted and freeze - dryed powder is highly concentrated with maximum of biologically active substances and vitamins withdrawn from wild rosehip berries without damaging its DNA.
Just to compare:
- Raw rosehip berries contain maximum 1,5% of pure vitamin C
- Our rosehip extract contains as much as 14,4% of pure and natural vitamin C!
Our rosehip extract is a powerful antioxidant due to its stunning content of vitamin C and at the same time it has a pleasant, non-acidic taste. Also with rosehip extract solved in cold water you can quickly quench the thirst.
And one more important thing: most of Vitamin C currently available on the market is made in China, synthesized from GMO-corn. It is very difficult to find non-GMO, natural vitamin C. Our rosehip extract offers 100% natural viatmins. It is soluble in water which means that all vitamins get right into your blood system.
Our freeze-dried extract powder:
- Contains no additives, no ethanol, no preservatives (as opposed to decoctions, syrups, tablets);
- Is ready for instant consumption, does not require time for preparation.
- Modern extraction technology allows to recover much more healthy nutrients from rosehip berry comparing to home-made decoctions.
- Manufactured exclusively from wildgrown organic rosehip berries picked in Siberian forests.
ORDER ROSEHIP EXTRACT NOW!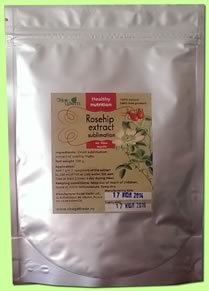 Appearance: rose-brown fine powder ( water-soluble);
Packaging: 100g stand-up-pouch with zip lock;
Minimum order : 1kg (10 pouches). Would last for one year consumption.
Manufacturer: Baikal Herbs Ltd, Irkutsk, Russia
To be shipped from: Russia, Irkutsk city
Dosage: 1\2 teaspoon x 2 times a day
Shelf life: 2 years
Prices include worldwide shipping by UPS registered mail (with tracking number). If you want to place mixed order pls email us.